Our team of friendly professional trainers will guide you through the Dogging, Basic Rigging and Intermediate Rigging courses, ensuring your success. We have a pass rate for students of over 99% at our Newcastle training facility.
Dogging
Course Requirements:
100 points of Identification
USI number
Over 18 years of age
Must be a New South Wales resident
Able to read, write and articulate in English
Complete pre-course study material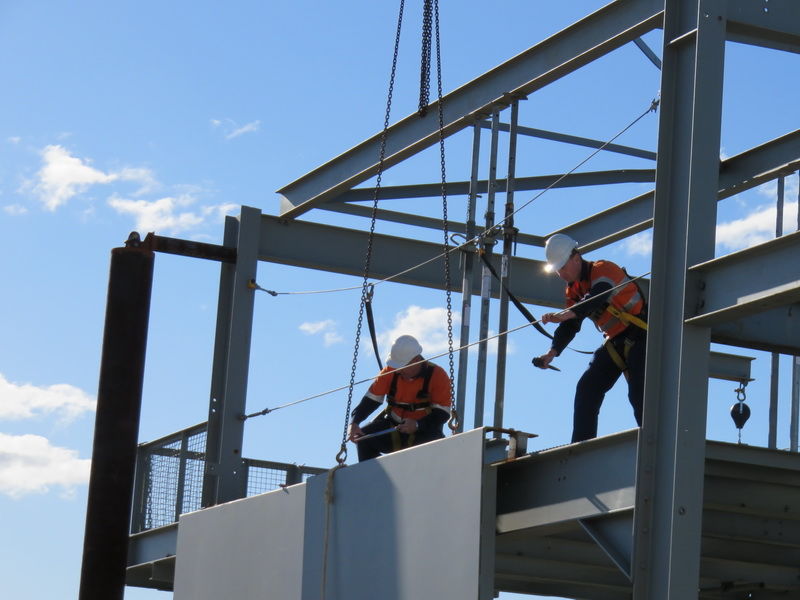 Basic & Intermediate Rigging
Course Requirements:
As per Dogging above, plus:

Students enroling in either Rigging courses must hold a current HRW licence for Dogging (DG)


In addition, students attending Intermedate Rigging must hold a current HRW licence for Basic Rigging (RB), as well as a Dogging HRW licence.
All high risk work licences require the applicant to attend an Australia Post outlet within 60 days of successful assessment to lodge their licence application at which time a $76.00 licence fee is payable to SafeWork Australia.
All Class Training can also come to you for onsite training. Please contact us on (02) 4964 9406 to discuss onsite training requirements and minimum numbers for our dogging and rigging courses in Newcastle and throughout NSW.
Frequently asked questions about dogging and rigging courses

Do you need a DG HRWL for a bridge or gantry crane?
A Dogging High Risk Work Licence is required by:
Any person other than a licensed bridge or gantry crane operator, who exercises judgement in the estimation of a load or selection of the slinging methods and lifting equipment when slinging a load on any bridge or gantry crane.
Any person who directs any bridge or gantry crane operator in the movement of the load where the load is out of view of the crane operator.
How much time do I have to apply for my HRWL after I am successfully assessed?
You have 60 days to submit your application at an Australian Post Office.
Can my employer submit my HRWL application?
No. The applicant must attend and submit their licence application at the Post Office.
Is there anything we can do before attending the course that will make it easier for me?
All Class Training sends out pre-course study material for you to complete before attending the course. This will provide background information as well as giving examples of the types of questions you will need to complete in your assessment.
My HRWL has expired. Do I need to undertake training again?
If your HRW Licence has expired within the last twelve months, you can renew it without attending a training course. If your licence expired more than 12 months ago, then 'ye' you must attend training and be re-assessed.
What forms of evidence of identity can I provide to be assessed for a HRW Licence?
You will need to provide 100 points of evidence. The combination of evidence of identity must contain your date of birth, current residential address (NSW), photograph and signature.
A typical combination may include a Passport (70 points), current Australian driver's licence or current HRW Licence (40 points each), Medicare card, Utility bill or bank card / statement (all 25 points each) other forms of identification may be acceptable.
What's involved in a HRW Licence assessment?
You will need to undetake a practical assessment as well as a theory and maths assessment. Both the theory and maths assessments will be closed-book assessments.
Do I need a Unique Student Identifier (USI) number to enrol on a course?
You will need a USI to enrol on any Nationally Accredited Course. If you do not have one or cannot remember your number, visit www.usi.gov.au to create or find your USI.