How to get a forklift licence: everything you need to know
Having a forklift licence is a very desirable qualification. Forklifts are used in a wide range of industries and businesses, allowing you to safely lift, stack, and transfer heavy items or loads. Today, thousands of workers are seeking out forklift licences to increase their job prospects and improve their skills.
It's a growing occupation. In fact, there are currently around 71,300 forklift operators in Australia and the numbers keep on growing each year. In 2024, numbers are expected to climb to 78,000.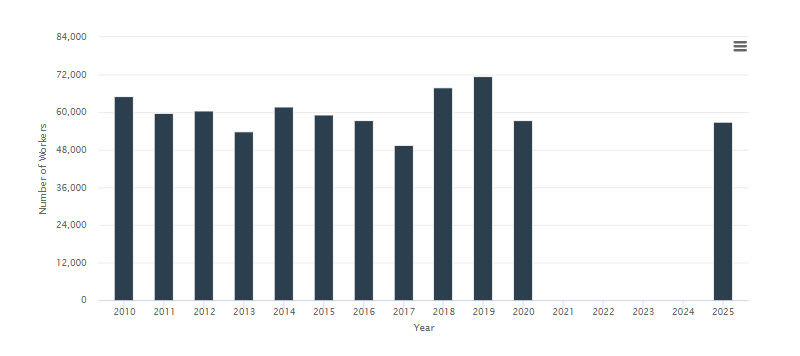 Image: Job Outlook
If you've been thinking about changing careers or simply want to improve your skills and safety knowledge in the workplace, then keep reading. In this article, we explain how to get a forklift licence from training to applying for a forklift licence.
Forklift licence requirements in New South Wales
In order to drive a forklift in New South Wales, you must have a high-risk work licence. This licence is required to operate a wide range of industrial equipment, including:
Forklifts

Hoists

Pressure equipment

Reach stackers

Scaffolding
It is important to note that there are multiple classes of high-risk work licencing and these apply to different machinery. Some additional training and licencing may be required.
Getting a high-risk work licence will ensure you have the training, skills, and knowledge to safely use this equipment in the workplace.
To get a high-risk work licence, a Registered Training Organisation (RTO) like All Class Training will need to assess your skills. To enrol in our forklift training course, you will need to meet the following forklift licence requirements:
100 points of Identification USI number

Over 18 years of age

Must be a New South Wales resident

Able to read, write and articulate in English

Complete pre-course study material
Forklift training and assessment can be completed in your workplace. For more information, contact us on (02) 4964 9406.
How long does it take to get a forklift licence?
If you're wondering how long it takes to get a forklift licence, the good news is that it doesn't take long at all. With All Class Training, you can complete your forklift licence in two days.
The course involves a combination of classroom and practical learning, covering:
Planning for the work/task

Preparing for the work/task

Performing the work/task, and;

Packing up after work has been completed.
You will be tested based on practical, theory, and mathematical assessments. We have a pass rate of 99%, so you can rest assured knowing you'll be well trained and prepared to operate a forklift in the workplace.
How to apply for a forklift licence
After completing forklift training with us and passing the course, you will be issued a forklift licence by All Class Training. From here, you will need to attend an Australia Post outlet within 60 days of successful assessment to lodge your licence application.
This is a forklift licence requirement for SafeWork and your high-risk work licence.
Please note that a SafeWork fee may be required upon application.
Sign up for a forklift training course with All Class Training today
At All Class Training, we offer one of the most interactive and intensive forklift training courses in Newcastle and Greater New South Wales. Within two days, you can achieve the skills and knowledge you need to safely operate a forklift in the workplace.

We schedule forklift training courses on a regular basis - find out when our next course is on, or get in touch for more information today!
Feature Image: Civil Training Australia